WHAT?... ABOUT BOB?

JUNE 26 2013

Hey folks!

It's been a minute since I've updated this website. I moved into a new place last November and it seems like I spend forever just getting organized and back on track with a performance game plan. I've sort of retreated to private teaching and producing singers, underscores et al. But there's a new breath of hope in the air. I'm very happy living out of the city. Getting into the music more than ever. Feeling the vim and vigor to move forward with my One Way/Detour band, Café Simpatico or whatever else comes into play. Some new product and new ensembles on the horizon as well.

I am happy to be part of Mark Morganelli Jazz Forum Summer series. I'm looking forward to playing an awesome set with some great players.


14th Annual Dobbs Ferry Summer Music Series
moves to Mercy College, Turf Field, overlooking the Hudson
(moves indoors in rain)
through August 21 from 6:30pm - 8pm
download flyer
presented by Jazz Forum Arts [link]
June 26 -- Jay Brandford Tentet
July 3 -- Dezron Douglas Quartet
July 10 -- Sonya Robinson Quartet
July 17 -- Stephanie Nakasian & Hod O'Brien featuring Veronica O'Brien
July 24 -- Bob Albanese Quartet
July 31-- Barbara Martinez Group
August 7 -- Sean Smith Quartet
August 14 -- Yard Byard: The Music of Jaki Byard
August 21 -- TBD

Link:
http://rivertownsguide.com/


Hope to see you there!


2009
L
ately, I've been playing at various clubs around town including
Bemelman's Bar
as well as the prestigious
Cafe Carlyle
at the Carlyle Hotel on 76th and Madison, NYC. Also a swingin little club in Brooklyn called
Puppets Jazz Bar
and a variety of other venues in the NYC tri-state area. I travel occasionally to various parts of the world with artists in Jazz, Cabaret and Ethnic settings, including Armenian Jazz vocalist extrodinaire
Datevik Hovenesian
, Tony award winning Brazilian baritone
Paulo Szot
, and as often as I can with my own groups. I also teach and do arranging and production at home. I have a c.d. out that was released in 2009 on Zoho music called
"
One Way/Detour
"
. It's a Jazz piano trio oriented recording with stellar support from
Tom Kennedy
on Bass and
Willard Dyson
on Drums with a guest artist legendary native Chicago multi-instrumentalist,
Ira Sullivan
.

There's nothing all that predictable about the blue collar music business. That goes for the white collar and the green one too. I hear that bagpipe scene has its share of blarney. But seriously... while it's never predictable, somehow things manage to roll along...just like old man river... with all the expected ebbs and flows. I'm grateful for the process, riddled with oxymoronic twists and turns as it is. It's a game of give and take... As the saying goes... I don't know who said it, but I read it on a T-shirt I picked years back at a gift shop at the rim of the Grand Canyon after a grueling 24 hour hike... "The journey is the reward!" Admittedly, I did not think so toward the end of that particular hike while I was trying to drink dew drops off of leaves to quench my dying thirst , but I've since found it to be a good approach for life. You've got to savor the moments. In the end, that's all we have.

Hence, the title and relative subject matter of my last published work entitled, "One Way/Detour"... It's conceptual theme summed up in this picture.

"One Way/Detour" (from Zoho release "One Way/Detour") Tom Kennedy: bass; Willard Dyson: drums; Bob Albanese: piano composition


"When you get to the fork in the road... take it!"
-Yogi Berra

The story behind "One Way/Detour".

In January of 2008 while on a gig as musical director for dear friend and sporadic employer, the inimitable, musical theatre performer and spiritual renaissance man, Ben Vereen at the fabulous Colony Hotel in Palm Beach, Florida. A good friend who was living in Florida at the time, master drummer, producer and engineer Steve Davis, was my first call to locate a studio and hopefully be included on the prospective recording. I had recorded with Steve in the 90's... with superb results, but this time he opted out for technical reasons. So another good friend from that area who had helped us with the Colony event, helped me find a great studio in "Jupiter", Florida called Echo Beach studio . Tom and Willard were already on the gig with Ben and we had a nice vibe going. Being the consummate musical artists that they are, they were enthused to do a recording (you'd think they'd opt to chill by the pool with a Mojito) on the only days off on a 2 week gig. Then I decided to contact the legendary Ira Sullivan in near by Miami and see if he would come up and join us. Seems like Ira lives and breathes music, always playing, always ready to blow. Once the conditions were favorably set he was delighted to come and play an impromptu recording session... Imagine my excitement.

T
ruly a dream come true!
I had played with Ira once before at a session in New York organized by my good friend and colleague,
Bob Mover
. I had hoped I'd get a chance to play with Ira again. He represents what this music is all about and he has played with and influenced countless formidable talents in Jazz. To have him on the record... it was an honor to say the least.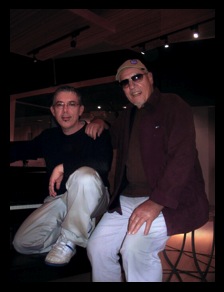 SONG REMOVED TEMPORARILY
"Ugly Beauty" by T. Monk (from Zoho release "One Way/Detour") Ira Sullivan: alto flute;
Tom Kennedy: bass; Willard Dyson: drums; Bob Albanese: piano composition

M
y titles (my tunes and some classic Jazz standards by Thelonius Monk, Lionel Hampton) were mostly all
following an oxymoronic theme
(Major Minority, Ugly Beauty, Midnight Sun, Friendly Fire)... Ira brought a great tune that also had an element of
oxymoronity
... "Yesterdays Gardenia's". A song originally written for the Glenn Miller orchestra by big band singer, Dick Robertson... Consider this... and might I say this glimmer of "Bobthink" would probably fall under the category of "hogs to chew on" (re: opening comments on my home page)... If the gardenia's represent the love that one once nurtured forward, then its kind of like "yesterday's future"... Conceptually, it felt kindred to the idea expressed by T. S. Elliot in his poem "Burnt Norton".
"Time present and time past are both perhaps present in time future"
... It's a stretch I know... but in keeping with the oxymoronic paradigm. The bottom line is, does the music live up to the theme? If not, this entire premise is nothing more than a cheap gimmick. But hey, I'd never put something out that didn't meet a certain brand of quality... I've listened to a lot of great Jazz and frankly I'm much too discriminating to release a gimmicky side without real substance. ;~) But by the same token... the theme rang true with me then and it still rings true at present, more/less.
J
azz improvisation
has a kind of
oxymoronic continuum
, on many levels, both for the players and the listeners. Some play it straight ahead, right down the middle, others veer every which way... and the debate continues, from every different angle, as to which
is
and which
isn't
Jazz. I tend to lean toward the straight and wide. This session has that flavor.
"One Way
/
Detour
"
represents all that I love about Jazz...
especially
the stretching aspect. I have done a few projects in my days and they have all had a certain modicum of unpredictability... a lot is decided along the way (like this website for instance). Jazz is supposed to
swing
... as the song says, without it, "
it don't mean a thing"
...which is all fine by me... although I think
swingin'
translates to different feels depending on the cultural approach... (everybody can add their personal stir to this canon!) Regardless of what side of the fence you're on... Jazz is a fine art of
listening
and
decision making
. Composing slows the process of musical decision making and helps to refine this process in the heat of the moment of an improvisation.
Swing
...
.
in
n
all
it's
multi-
cultural-
stylistic-
splendor
... has a way of greasing those gears of spontaneous composition. Intertwined with the dialog present between the players there's a collective story being told. I think if more of the non-Jazz listening public new that, there would be a wider appreciation for the music. Hopefully my contribution has value in this respect and can provide some enrichment. Folks do seem to enjoy it. I'm glad it is received well by seasoned Jazz musicians, but I especially love when it sparks a chord in those new to the genre... My hope is that it can open some to the wide spectrum of progressive Jazz music. Check out the reviews in my sidebar.
I
'm presently working on
two new projects
that I am
very excited about
. One is a
vocal project
where I am
producing my own songs
as well as friends tunes that I wrote lyrics for, which I'm doing in New York. This is also a very compelling and healing process... Getting past petty tyrannical barriers, and just sing the damn song! No biggy (LOL). I realize, I'm no
Bobby McFerrin
or
Luciano Pavoratti
. Its just me... singing what I feel like screaming on the street corner. It beats feeling passive and impotent to the overwhelming state of the world. I'm thinkin' ... maybe my willingness to go ahead and sing my own songs is waking up untapped healing pheromones within that will attract others with similar concerns and diffuse some of the insidious specters of doubt that plague us all from day to day... I dunno. Maybe I will attract others who may have a better understanding or smarter bent on the tactics of doing such a thing? Maybe it will open the door to a world of creative artists who feel similarly and I will have a chance to hear the music, art, literature, what have you, that they are making? Maybe I'd be better off screaming on the street corner? Or maybe, it makes better sense to forget all that and just practice Chopin? The neighbors seem to enjoy that option. Ah, but perhaps foolishly, I plow forth thinking that in some way, I owe it to myself to record my songs.
I
t is a slow but sure
work in progress
. I have a lot of songs to record that I have written of a long stretch of time, so I expect this to be an ongoing thing. It's a kind of musical Spring cleaning that is long overdue! These songs have value for me as milestones in my travels along the dusty trail. And I think they are inspired in myriad ways. But they are also a liability... One thing I've learned in life, when you make up a tune... it stays with you for LIFE! If you don't share it, then what is it for? I've been out
on the scene
mostly as a pianist. So far at least, my ship hasn't really sailed as a song writer.. professionally speaking... and let alone as a
singer
of those songs. I tried that once before on the record you see below. It was not as easy as I had hoped. And yet... I am trying it again... what on earth is possessing me... I'll never know. I guess I have something to say, and this is the best way I know how.
Of course. music is the most universal language
.
So why all the focus on lyrics? as a kid, when I first heard "What the World Needs Now is Love Sweet Love"... I felt like it echoed the larger context in a palpable way. When I first heard "
Turn, Turn, Turn
" by Pete Seeger ("The Birds" version really), it gave me goose bumps. "
To Everything There is a Season
". Those words adapted from the book of Ecclesiastes in the Bible open me to a spiritual dimension. In the same way that Lou Soloff's trumpet solo on the "Blood, Sweat and Tears" song "Spinning Wheel" or Vince Guaraldi's piano trio on "Charlie Browns Christmas" turned me on to Jazz. I knew that I wanted to move toward that musical canon, because it allowed a depth of expression I was yearning for. I've been at it ever since.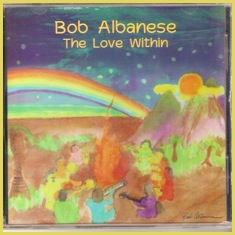 "The Love Within" (title cut; 1996) Bob Albanese:piano, vocal, Melodeon,composition
I
made a record in Hawaii in 1995
which was manufactured in limited number by
Tropi Cool Jazz
and distributed only in Hawaii. It is an eclectic mix of songs that I wrote, played and sang (along with other talented singers and musicians from Hawaii); along with a couple featured heavy's. Namely, award winning trombonist
Bill Watrous
and stellar percussionist
Richie Flores
. It's called
"The Love Within"
after my song of the same name. A song that came to me at a very lonely time.... and served me well as a conscious reminder of love, peace, hope and faith. I hope you enjoy it.
H
owever, l always thought of it as "Circle of Friends", because that's what it meant to me at the time.... It was about friendship, love for other, loving thy self. It was a learning experience as these things always are. I really wanted it to be a purge project. The best recognition I could have wished for came from a select and ever increasing circle of friends who embraced it for what it was... a musical testimony... and an exercise in
NOT GOING BANKRUPT!
(after the limited backing for Circle of Friends" was over, I resorted to credit cards to complete it). I'm proud to say I paid it all off over a period of time...but
SERIOUS
note to self
.
..
try not to do that again
.
However, if it wasn't for the trials of paying off that debt finally, I would have never met my wife. Strange how things come around.
W
ell, as far as song-smithing goes, it didn't end there. I keep writing songs. It's a healthy habit, even though all too often some part of me that resides in a place like Roger Rabbit's Toontown, hears snappy ditties as opposed to serious musical works. But those
schtick
in my head too and also require following through with documenting, copyrights etc. I keep telling myself...
GET SERIOUS!
... and that I need to start
moving on
. Yet the songs keep piling up like old shoes. They call out to me like bastard children (so much for planned parenthood) showing up at the doorstep
of my mind
... when I least expect it. I keep telling myself... "I need to purge these tunes so I can get on to new things". Since 1995, the internet has
luckily
gotten a lot more sophisticated. I've decided to take the "purge" movement to another level in the way of an
i
n
t
e
r
a
c
t
i
v
e
p
r
o
j
e
c
t
so please stay tuned for further developments.
T
he question I gotta ask myself is ..."Are you feelin'
LUCKY
??" Yea... I'm feelin' blessed. Much to be happy about. Miracles... everyday. Click here to view some of
The_Luckiest_People_On_Earth
A
nd speaking of feeling
lucky
, I will be talking further about
how
YOU
can actually be creatively involved
in an ongoing song project via "Kickstarter.com". I will post songs on this website as well as on youtube and other online resources as I record them. I have
high hopes
for this endeavor. I
hope
you can find some
enrichment
from it.
The other project I'm in flux with is one I got a feel for in January and plan to resume in July. It's with some fine players I worked with on the "left" coast in Los Angeles, the last time I was there performing with the great Paulo Szot. My LA rhythm sectionon this project is Mike Shapiro on drums and Hussain Jiffry on Electric bass. We recorded at Bill Schnee studio in North Hollywood. An incredible studio.

"El Raton" Bob Albanese
Recorded at Bill Schnee Studio Hollywood. "Left Coast Liaison" (unmixed)
Mike Shapiro: drums; Hussain Jiffry: bass; Bob Albanese: piano, composition

This project will has a similar format, so again, please stay tuned for further developments. Anyway... welcome to my world! Please check out my bog "Café Simpatico" on the next page. I posted more pictures and music. You can get a glimpse into my new musical projects per the tunes posted. Please just click "Welcome to Café Simpatico" in my present page menu in the sidebar. Thx.

Paulo Szot at the Cafe Carlyle with 'The Bob Albanese Trio"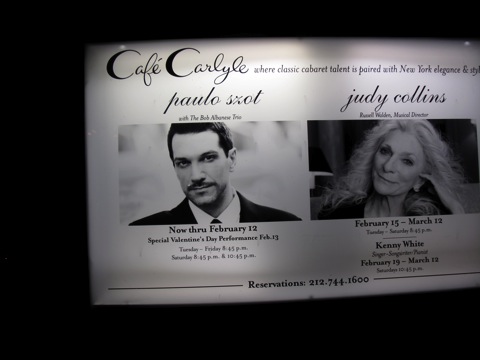 Datevik Hovenesian, "City Jazz Festival" St. Petersburg Russia

"Ustee Gookas" -Sayat Nova Datevik Hovesnian vocal; Bob Albanese: piano; John Baboian: guitar, Joe Fitzgerald: Bass; David Meade: drums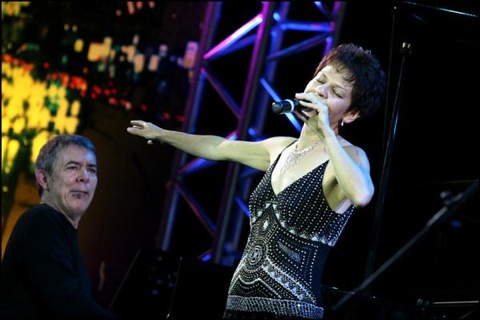 1st International Jazz Solo Piano Festival, Berlin Koncert Haus, Germany, November 2009
"Morning Nocturne" Bob Albanese: piano, composition
Bemelman's Bar, Hotel Carlyle NYC, With Paul Meyers on guitar, Ugonna Okegwo on bass,
Dave Meade on drums and special guest vocalist, the incomparable Karrin Allyson
At Bill Schnee studio, N. Hollywood, California recording "Left Coast Liaison"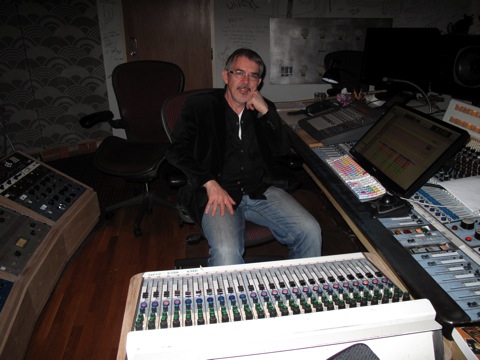 With Ira Sillivan. C.D. release party "One Way Detour" at "Smalls" in Greenwich Village, NYC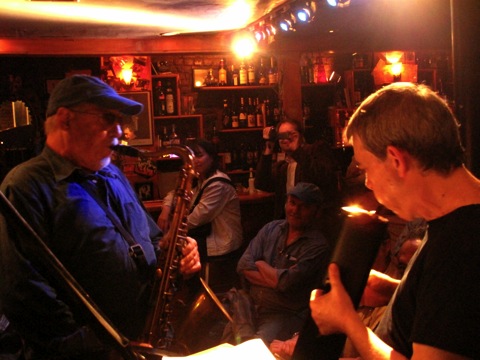 Bob Albanese trio (Tom Kennedy, bass, Willard Dyson, drums)
with guest artist Ira Sullivan at "Trumpets", Montclair, NJ